I have spent a great time in Japan. Unfortunately, these times were not happy for everyone here. You certainly heard and saw a lot about the awful situation after disastrous earthquake and deadly tsunami. I experienced some extraordinary events that most Europeans will never see in a whole life. One of them was training under the smoking volcano.
My Japanese parents in law happen to live about 20 km from Mr. Shinmoedake, which has awakened in January after very long period of time. My everyday training sessions usually comprised 7 km run to the Undokoen (sports park),  strength training and stair climbing there, and 2 km swimming sessions (twice a week). The park is about 12 km the the volcano and I experience spectacular views of volcano puffing smoke and ash. The good point (for me) was, that the winds usually carried the ash away from the training area and our house – of course, for people living along the wind direction, this was a painful situation with all that annoying fine ash. I "chewed" the ash only once or twice…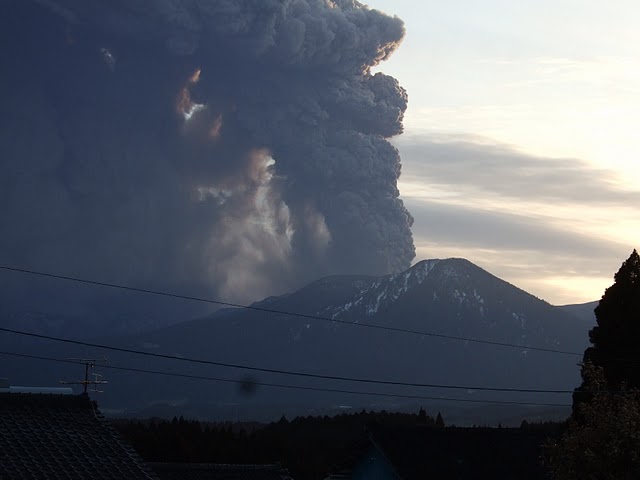 Kobayashi has a nice swimming pool – water was about 32 °C (much more pleasant that 28 °C in Olomouc). Originally, I planned 4 km swimming sessions, but I had to run 7 km there, 7 km back, and in addition, I added strength training and stair climbing into the training, so after all I had to live with 2 km swimming. Generally, it is a great place for training with temperatures reaching 15 °C at noon even in January. The mornings were generally freezing, but the sun is strong in Kyushu.
Now, when the "training camp" is close to its end, I can say that it was a great time and I wish I stayed here.
Olomouc is also getting warmer. After getting back, I will get back to the training routine with swimming and strength training sessions from 6:00 in the morning and evening running. I will also have to focus more on the business and, of course, get along well with my family, which is returning with me back to the Czech Republic after spending one year in Japan.
Cheers!